Sankalp Se Sidhi Programme
DATE :- 19 August 2017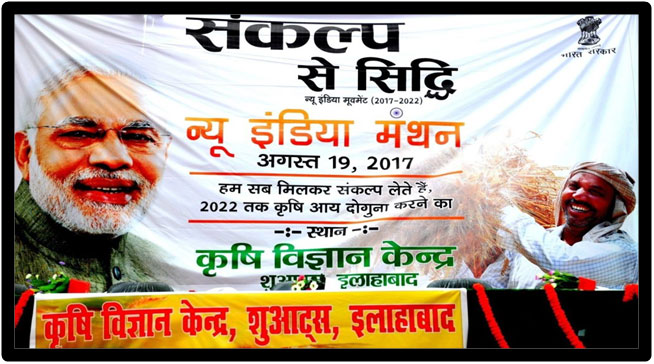 Program
10-11 AM
Registration of farmers
Mr. Jitander Singh
11-11:15 AM
Opening Prayer
Dr. A. Kumar
11:15-12:00
Welcome of Chief Guest by Flower Bucky
Ribbon Cutting on Pandal Gate.
Introduction of KVK
Dr. Samuel Deepak MeCarty,
Sr. Scientist and Head
12-12:30 PM
Address of Chief Guest and Guest of Honor Lightening of lamp
Chief Guest, Guest of Honor and all Invites Guest
10:20 – 11 AM
Technical session starts
Lecture on Honey Bee
Dr. Ajay Kumar
11 – 11:30 AM
Arrival of chief guest Ribbon cutting on pandal gate
All staff with farmers
11:30 – 11:45 AM
Arrival of chief guest Ribbon cutting on pandal gate
All staff with farmers
11:45 – 12:00
Visit of chief guest of exhibition stalls
12 – 12:30 PM
Lighting of ceremonial lamp by chief guest
12:30 – 1 PM
Introduction and welcome of guests with Bouquet offering
Sanjay K. Lal
1 – 2 PM
About KVK and Sankalp diwas and administration of oath (Sankalp)
Dr Samuel Deepak Mecarty,
Head and Sr Scientist
2 - 2:15 PM
Speech by Director Extension
2:15 - 2:30 PM
Speech by DD Ag
2:30 – 2:45 PM
Speech by CDO
2:45 – 3 PM
Speech by the Chief Guest
3 – 3:15 PM
Award distribution to the progressive farmers
Chief guest
3:15 – 3:30 PM
Offering memento
3:30 PM
Vote of thanks
Sanjay K Lal
LUNCH
REPORT ON "SANKALP SE SIDHI"
Date
19 August 2017
Venue
Krishi Vigyan Kendra, SHUATS, Allahabad
Chief Guest
Mr. R. P. Singh
(Member Governing Body ICAR, New Delhi)
Guest of Honor
Samuel Matthew, IAS
(Chief Development Officer, Allahabad)
Distinguished Guests
Mr. Vijay Singh
(Dy. Director (Agri), Allahabad)
Mr
DHO, Allahabad
Dr Wilson Kispota
(Director Extension, SHUATS)
Heads of Various departments, SHUATS
Scientists of Directorate of Extension, SHUATS
All KVK Staff
Approx530 farmers
On completion of the registration of the farmers the program started after the prayer by Dr Ajay Kumar. The farmers and the other invited guests were welcomed by Sanjay K Lal. The Technical session on World Honey bee Day immediately followed which was conducted by Dr Ajay Kumar. Two rags to riches success stories of farmers who by the help and guidance of KVK started their small honeybee enterprise a few years back and today both of them are one of the leading honeybee producers of Allahabad, Shri. Devinder Singh Yadav and Ajeet Kumar Maurya. Shri Yadav gave his testimony to inspire and motivate other farmers who are looking for diversification for additional income.
By 12:00 noon the chief guest Mr R P Singh arrived. All the guests and invitees visited the exhibition stalls then the chief guest along with other distinguished guests was formally welcomed and offered the flower bouquet.
Dr. Samuel Deepak Mecarty, Head and Sr Scientist elaborated the activities of KVK with a special emphasis on Soil testing and soil heath card – its importance and distribution.
The guest of honor of this program Mr Samuel Paul, IAS, Chief Development Officer, Allahabad arrived at about 12:30 PM after that Dr Samuel Deepak Mecarty, talked about the Sankalp se siddhi concept of Hon'ble Prime Minister and read his entire message for this occasion. Then everybody was made to stand up at their places and Sankalp se siddhi oath was administered by the KVK Head to Chief Guest, Guest of Honor, All invitees, KVK staff and the farmers.
The CDO in his address made farmers aware of various govt policies on agriculture and motivated them. He instructed the DD and other officials to sincerely implement these policies for the farmers.
A few progressive thinking farmers were awarded for their unrelenting hard work and successful and encouraging results with mementos and certificates as a recognition of their success story by the guests of honor and the chief guest.
The Chief Guest Shri R P Singh in his address emphasized on various points which are as follows :
Increase in production and doubling the income by 2022 which could be achieved by these measures.
Keeping the Soil healthy by getting it tested periodically and maintain updated soil health card.
Effective use of various inputs.
Post production loss mitigation.
Quality improvement by adoption of new techniques.
Risk reduction in farming and crop insurance.
Allied agricultural activities without which it's very difficult to achieve this 2022 target of doubling the income.
All the distinguished guests were presented with a memento as a token of appreciation from KVK by the head.
Vote of thanks was proposed by Sanjay K Lal to one and all and everybody was invited for lunch.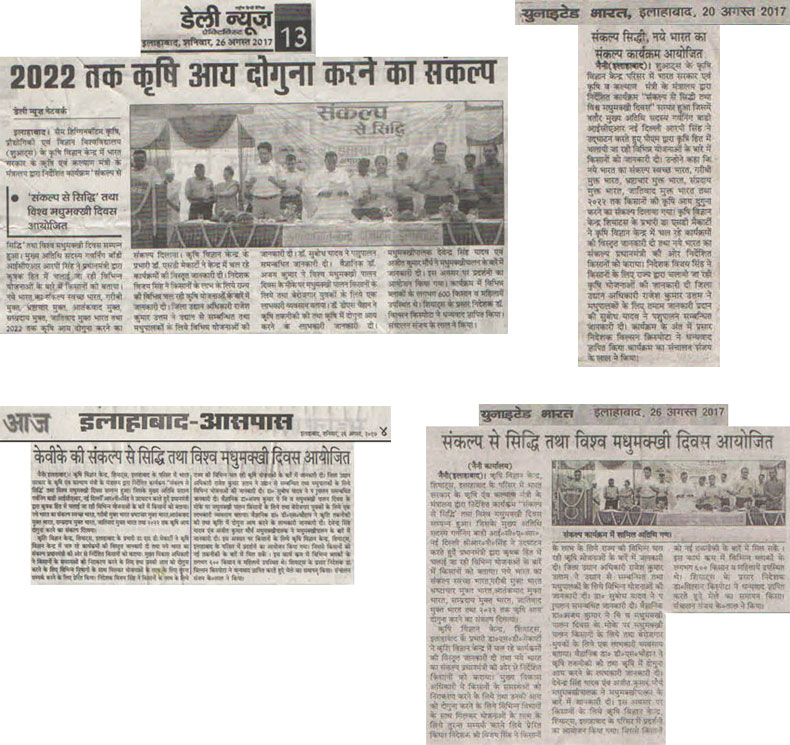 स्वच्छता ही सेवा दिवस
DATE :- 17 September 2017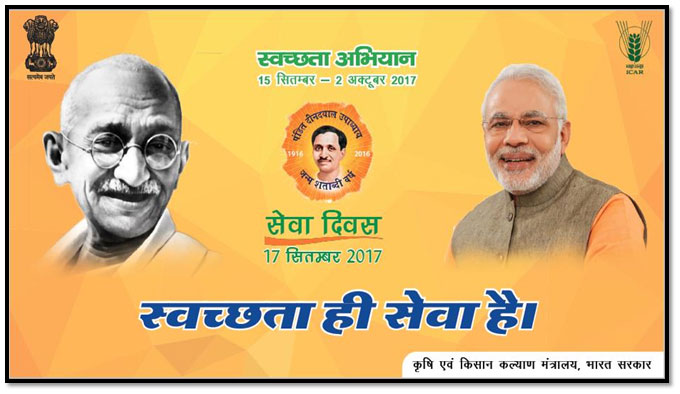 कार्यक्रम
प्रार्थना
10 से 10ः15
डा. अजय कुमार
स्वागत
10ः15 से 10ः30
स्ंाजय के. लाल
स्वच्छता ही सेवा
माननीय प्रधानमंत्री का संकल्प
10ः30 से 11ः30
डा. एस. डी. मेकार्टी
स्वच्छता कृषि विज्ञान केन्द्र परिसर
11ः30 से 12ः30
समस्त स्टाफ एंव किसान
वृक्षारोपण
12ः30 से 1ः45
समस्त स्टाफ एंव किसान
धन्यवाद ज्ञापन
1ः45 से 2ः00
स्ंाजय के. लाल
जलपान
राष्ट्रपिता महात्मा गांधी की सोच तथा प्रधानमंत्री श्री नरेन्द्र मोदी के "स्वच्छता ही सेवा है" कार्यक्रम को कार्यान्वित करते हुऐ के. वी. के. इलाहाबाद ने जो इलाहाबाद के जमुनापार क्षेत्र के विकास में गत 20 वर्षो से सराहनीय भूमिका निभा रहा है, इस दिवस को अनेक किसानों के बीच अपने परिसर में स्वच्छता एंव वृक्षारोपण द्वारा प्रर्दशित किया।यह कार्यक्रम डा. एस. डी. मेकार्टी (विभागाध्यक्ष के. वी. के.) के अगुवाई में पूरा किया गया। इस कार्यक्रम में के. वी. के. के समस्त कर्मचारीगण एंव अनेक किसानों ने सहभागिता सुबह 10 बजे से अप्राह्नन2 बजे तक अपना श्रमदान किया। इस कार्यक्रम के दौरान 2 ट्राली कूडा साफ किया गया तथा 100 वृक्ष ल गाये गये।डा0एस0डी0 मेकार्टी ने माननीय प्रधानमंत्री के 2019 तक भारत को स्वच्छता के एक अन्र्तराष्ट्रीय स्तर तक ले जाने की सोच को विस्तार रूप में समझाया तथा इसको गांवों तथा किसानों के बीच ले जाकर किसानों को स्वच्छता के लिये प्रेरित एंव जागरूक करके आगे की योजना बनाईं।