Success Story 1 : Reduction In Cost Of Cultivation Of Paddy Using Drum Seeder
Sh. Shiv Sagar Kushwaha, s/o Lt. Sh. Ram Harsh
Village – Champatpur, Post – Bagbana
Block – Chaka, Allahabad
Mob. No. : 9838313675

Through : KrishiVigyan Kendra, Allahabad
Reduction In Cost Of Cultivation Of Paddy Using Drum Seeder

By – Dr. GPM Singh, Scientist (Ag Engg.) KVK Allahabad
In order to maintain the spacing, crop geometry and crop establishment in case ofdelayed monsoon condition, Drum seeder has been designed and fabricated for 8 row sowing of pregerminated paddy seeds. Thisequipment has come as a boon to the small and marginal rice farmers because ofits low cost, easy to handle, adaptability and easy to fabricate by the local artisans.The device help to maintain plant to plant spacing and row to row spacing this inturn help to do the intercultural operations by using cono-weeder. It helps to save33% of total labour requirement, 20% of seed and 25% of water. In case of delayedmonsoon, water stress and labour scarce areas this equipment is of great help to therice farmers. There is no yield decrease is noticed by using drum seeder whencompared with manual and mechanical transplanting methods. Since it is cost is only Rs.5000/- the small and marginal farmers can afford to buy this equipment.
Salient Features
Labour cost will be reduced
Uniformity in seed sowing and plant population
Continuous drilling of seeds is eliminated
Reduction in seed rate and thinning cost
Light in weight and easy to handle
An area of 1 hectare per day can be shown
Crop will matures within 7-10 days earlier than the transplanted paddy
Specifications
Power Source : Hand Operated
Row to row spacing : 200 mm
Shape of the seed drum : Hyperboloid
Number of rows : 8 rows
Diameter of the drum : 200 mm
Diameter of the seed metering hole : 9 mm
Number of seed metering hole : 9 Nos.
Wight of the unit : 10 kg
Type of the ground wheel : Lugged wheel
Diameter of the ground wheel : 600 mm
Operating speed : 1 kmph
Level of filling the seed drum : Half volume
Weight of seed drum : 600 grams
Material used : PP CP
Seed requirements : 12-15 kg per acre
Seed preparations : 24 hours socking in water.
12 – 24 hours incubation.
Production capacity : 75,000 Nos. per annum
Mr. Shiv SagarKushwah is a progressive farmer in Champatpur village in Chaka block of Allahabad district cultivating paddy for past twenty years. He has been regularly cultivating Arize 6444 in Kharif season for the last 4-5 years. By implementing traditional practices i.e. higher seed rate, imbalanced nutrition, less awareness of pest and disease management & lack of knowledge on postharvest management, he was getting low yield and income. The income was not sufficient for maintaining his family. As he could not find any remedies for this problem, he contacted our KVK scientists during 2013-14.
Looking into the problem of labour scarcity during peak season and high cost of transplanting KVK scientists suggested to go for mechanized paddy cultivation viz., accurate leveling of field, drum seeder usage (wet condition) for direct sowing of seeds and weeding with conoweeder. By applying above technologies he reduced the cost of cultivation and gained more yield & income. Results using drumseeder during the past three years by Sh. Shiv Sagar Kushwaha can be observed in the table given below.
Table : Comparison and effect of sowing by drum seeder over manual transplanting of paddy
Year
T1e
Seed rate(kg/ha)
Cost of cultivation (Rs)
Yield (t/ha)
Increase in yield %
Net return (Rs/ha)
B:C Ratio
2013-14
Manual Transplanting T1
Sowing by manually drawn drum seeder T2
20
20
26560
16500
8.2
8.6
-
4.88
85300
90300
4.21
6.47
2014-15
Manual Transplanting T1 Sowing by manually drawn drum seeder T2
16
12
29760
20500
8.2
8.6
-
4.88
79440
91500
3.66
5.46
2015-16
Manual Transplanting T1
Sowing by manually drawn drum seeder T2
16
12
30560
21300
8.0
8.3
-
4.88
79940
90700
3.61
5.2
Level of drudgery – Very low
Field capacity (ha/hr) – T1- 0.003 ,T2- 0.0625
Labour, man hrs/ha (no.) - T1- 320(40),T2- 16(2)
For generations, farmers have been planting rice by tossing handfuls of seed into a field until it is covered. Unfortunately, this inexact method causes unequal seed distribution, which reduces yields and limits farmer income.The drum seeder is a simple piece of equipment that can transform the way farmers sow their fields. The design is straightforward and easy to use. A series of plastic drums containing seed is linked horizontally with wheels on both ends. The farmer stands in a harness and pulls the unit behind him, dispensing seed up to 8 rows at a time.
Effect of sowing paddy with drum seeder as compared with the conventional method of raising nursery and transplanting in puddled field with greater depth of water. Major aspect to be looked into was labour saved as is reflected on the overall cost of cultivation. Labour saved was observed to be upto 95%. It resulted in yield increase (8-9%), and savings of water (25 to 30%) But, the farmers are facing labour scarcity for paddy cultivation and timely operations. It ultimately delayed the farm operations and skipping of adoption of technologies which results in low productivity in paddy.
The direct sown paddy through drum seeder has attracted all categories of farmers due to easy operation, less weight, line sowing with less seed rate ( 9-12 kg / ha) more tillers, early maturity etc., apart from savings in transplanting cost. The line sowing of paddy has also helped the farmers to utilise conoweeder for weeding. The drum seeder available at KVK is also used by farmers of Yamuna par region of Allahabad district districts.
The direct sown paddy has spread in and around his neighboring villages too after seeing the results of this technology.

Success Story 2 : Successful Bee Keeping Entrepreneur
Ajeet Kumar Maurya, S/O Lt. Sh. Ram AdharMaurya
Village & Post : Jagdish Pur,
Block : DhanuPur, Handia
District : Allahabad
Mob. No.: +91 98998636
Through : KrishiVigyan Kendra, Allahabad
Successful bee keeping entrepreneur, Ajeet Kumar Maurya

By- Dr. Ajay Kumar, Scientist (Ag. Extension)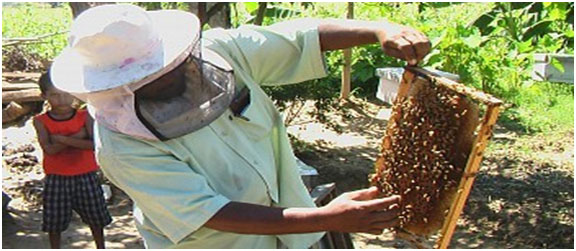 September 2017; Ajeet Kumar Maurya (34), Village/Post Jagdish Pur, DhanuPur, Handia, Allahabad, U.P. owns 100 bee hives and sells honey in city markets as far and wide as Allahabad Saharanpur, Fatehpur,Pratapgarh, kausambhiand other districts through vendour.
In 2016, He produced 18 quintals of honey; and sold them at an average rate of Rs.130 per kg in bulk. This translates into a net profit of Rs.100 per kg. sold as heinvest Rs. 30 to produce one kilo of honey," says Ajeet.Total Sale of Honey in the year 2016-17 Rs. 2,34000/=
Before Interventions of KVK Allahabad
Income generation is important for any agricultural activity. Apiculture is proven tobe an income generating enterprise under favorable conditions. But management of bee keeping, selling and marketing of honey remains a big challenge for apiculturist in the area every year due to lack of Knowhowand lack of honey processing unit in the area.
Intervention of KVK Allahabad
In the month of September 2014, KVK Allahabad approached rural youths to impart training on beekeeping at KVK, Allahabad and discussed the issues they are all facing frommanaging the bee hives & selling the bee products. They were also made aware about with the fact that apiculture is not an enterprise for selling of honey rather more than it such as selling bee wax, making foundation sheets and Royal jelly and division of the bee hives. After imparting training, KVK, Allahabad discussed the problems faced by the beekeeper regarding the marketing and processingof honey. Some of the beekeepers raised the problems of marketing the honey.
He sales personally in Allahabad and Close by districts and in the KisanMela.Ajeet looking further market outreach to get more profit.
Ajeet's life took a new turn when he received a five-days bee-keeping training organised in KVK, Allahabad for Rural Youth in 2014. In the training he learnt skill how to manage, store, purify produce honeyand division of bee hives; as well as some marketing techniques. With the technical and logistical support from KVK to begin a new enterprise, he purchased an initial lot of ten bee hives at a total cost of Rs. 30,000 and set up a honey production and selling point in his house. During his first year, he could produce 150kgs. of honey andeach quintal was sold for Rs.12,000 earning a handsome profit. And make division of Bee Hives 10 to 100 no. Ajeet migrate in off season Saharanpur, KausambhiFatehpurand other districts.
Ajeet'swho had been forced to move from Allahabad to Bombay in 2008-09 due to extreme poverty and hardship has now become a successful entrepreneur. He is also an active member of the Allahabad Honey Bee Keepers. In order to expand his market outreach, the honey is also marketed and sold during promotional events.
Dr. Ajay Kumar, Scientist (Agr. Extension), KVK, SHUATS, Allahabad, says, "Ajeet now earns enough to be categorised as a 'small entrepreneur,' who means someone whose total fixed capital is more than Rs.200, 000. In three years, Ajeet has made us proud. We just encouraged his creativity and helped him identify an outlet for his entrepreneurial energy. His story is used as a role model when we train new entrepreneurs."
KVK, Allahabad is active in the district to trained rural youth for bee keeping as an Enterprise.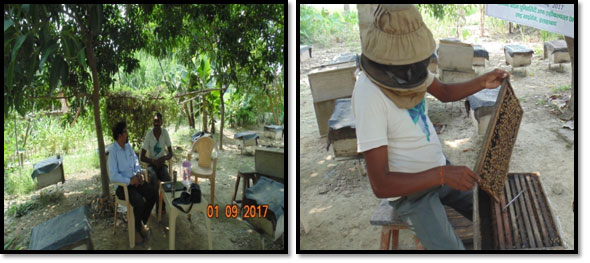 Sucsses Story 3 : Chickpea Sep 2017
More income from management of wilt in chickpea - K.V.K. Allahabad
Introduction
District Allahabad is situated in the South-Eastern part of the State Uttar Pradesh. It lies between the parallels of 240 77' and 25047' north latitudes and 810 19' and 820 21' east longitudes.
Allahabad district has such tropical climate that the average maximum temperature ranges between 430C - 470C which may go as high as 480C during peak summers. The minimum average temperature is 2-40C which may fall as low as 1.50C during peak winter months (Dec.-Jan.) The average rainfall of the district is 960 mm and the monsoon season is spread between July-September.
Topographically, the district of Allahabad belongs to the central plane zone of Uttar Pradesh. The district Allahabad may be divided in four different agro-ecological situations AES i.e :
Black and Coarse-grey land
Jamuna khaddar and Alluvial
Ganga Low land and Sodic
Ganga plain.
The northern part of Allahabad district popularly known as Gangapar provides rich loam soil for cultivation of food grains, pulses, oilseeds and vegetables. The Southern part of Allahabad district also known as Yamunapar is partly rocky and somewhat agriculturally backward. Out of total cultivated land 64% of the area is irrigated (Canal, Tube well Govt. & Public) and 36% is rainfed.
Total reported area in Allahabad 557012 hectare area under chickpea 15308 hectare.Mostely crop affected from wilt(Fusarium oxysporum)
Wilt of chickpea caused by Fusarium oxysporum f.sp.ciceri is one of the most serious diseases in India. Different cultivar of chickpea show wilting at different growth stages and influenced the yield loss with different degree of severity. Generally wilting at early growth stage causes greater loss than that of at later stage. It is typical vascular disease causing xylem browning or blackening. Efficient field, green house and laboratory procedure to evaluate chickpea lines for resistant to this disease have been developed and standardized. Field screening is generally done in wilt sick plot.
Crop and Variety
Chickpea and Variety - Jaki-9218
Details of Technology
Improved management practices of Chickpea and wilt resistant variety Jaki-9218 with soil application of Trichoderma @2.5 kg/ha , seed treatment with carbendazim @23gm/kg of seed, seed inoculation with Rhizobium culture 20gm/kg

Performance of technology vis-à-vis local check (increase in productivity and returns)
Improved management practices of technology performed well with increased in yield by 63.25 % over local check
Area to be Spread
From the last years area has been increased from 10 ha in 2015 to 120 ha in 2016. According to an estimate and campaign organized by KVK, Allahabad, it is expected that about more than 200 ha area will be covered under management of wilt in 2018.
Increase in Production
The impact of this technology increased the productivity of Chickpea from 8.0 QT per ha to 13.06 QT per ha. The visible impact reflected due to technological intervention on management of wilt in gram at Jhanjrapandey village, completely changed the mindset of neighboring farmers. The convincing impact encouraged the farmers to save their crop from the menace of wilt (Fusarium oxysporum). The impact of the wilt resistant variety &treatment done by the farmers in their chick pea crop on the recommendation of KVK, Allahabad resulted in changing the mindset of the neighboring farmers whose faith and interest were dwindling towards chickpea cultivation.
Income
The technological interventions made on management of wilt in chickpea from 2015 to 2016 enhanced the income of farmers. According to an estimate, data recorded from the field and interaction held with the farmers revealed that Rs.22282/hectareadditional income earned by the farmers due to management of wilt in chickpea.

Sucsses Story 4 : Paddy Thresher
Sh. Krishna Mohan Singh, s/o Lt. Sh. Mathura Prasad,
Village – Budawan (Umari),
Post – Jasra
Block - Jasra, Allahabad, UP, Pin – 212 107,
Mob. no. : 9793071914,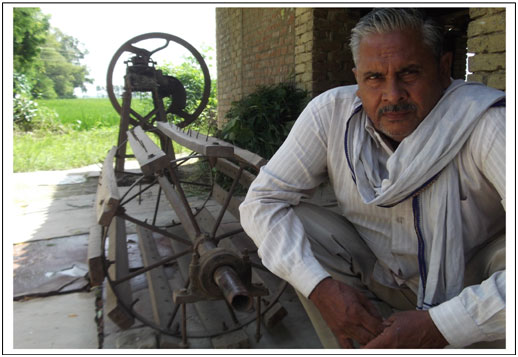 Through : Krishi Vigyan Kendra, Allahabad
THRESHING SOLUTION – A STORY OF INNOVATIVE FARMER

By –Dr. GPM Singh, Scientist(Ag Engg.) KVK Allahabad
Paddy threshing has been a problem since long in the villages of Allahabad. Indigenous method of beating dry paddy stalks is still being practiced by majority of the farmers of the region. Paddy threshing mechanism of the higher order starting with multicrop threshers is yet to pick ground because of various reasons associated. In the meanwhile Krishi Vigyan Kendra, Allahabad worked on technology which could be adopted by majority of the farmers. Various trainings and a demonstration was being conducted in this regard for quite sometime.
A trial was also carried out using and employing three different methods and mechanisms of threshing harvested paddy which was also closely observed by the farmers. The three different methods were namely :
Traditional method of beating paddy stalks against Wooden Plank.
UP Agro Industrial Corporation manufactured 'Hand Operated Paddy Thresher cum Winnowing Fan'.
Universities, Farm Implements and Machinery department manufactured Pedal Operated Paddy Thresher.

In the above methods, three women labourers (same labourers in all the three cases) were employed for three successive days for 8 hours each. The labourers were paid Rs.100 each per day. Against all the process of threshing in the above methods it was observed that output of paddy, variety MTU – 7029 in particular was:
2.75 quintals/day by beating paddy stalk against wooden plank.
1.25 quintals/day by hand operated paddy thresher cum winnowing fan (using it after detaching the fan).
3.25 quintals/day by pedal operated paddy thresher.
One Keenly Observing Farmer
Sh. Krishna Mohan Singh, s/o Lt. Sh. Mathura Prasad,
Village – Budawan (Umari),
Post – Jasra
Block - Jasra, Allahabad, UP,
Pin – 212107,
Mob. no. : 9793071914,
Raised questions regarding possibilities of increasing the output capacity of the pedal operated thresher. Several accounts of discussions were carried out with the farmer. To increase the output capacity of the machine, a few technical suggestions were made to modify the existing machine taking into consideration Sh. Krishna Mohan Singh's capability and resources. It was also important to keep in mind that the machine be as simple as possible and the requirements in assembling it be available within the farmers reach. Keeping in view the suggestions the farmer developed a machine similar to that of pedal operated paddy thresher with the following specifications :
11 wooden planks of 12 cm width and 1.3 m length were equidistantly placed and secured with nuts and bolts on hollow wrought iron rim placed 1.25 m apart.
The planks were embedded with 7.5 cm spikes in a staggered pattern, spaced 10 cm apart.
A shaft was passed from the centre of the rims and bearings were placed at its ends to give it a rotary movement.
The assembly was mounted on wooden stand mounted firmly on ground so that rotation could be given either by 2 hp diesel engine or 2 hp single phase motor so that 250 rpm for thresher can be achieved.

Machine was assembled following the above specifications. On operating the machine for threshing paddy four women were deployed for the same MTU 7029 variety and an output of 16 q/day was achieved. Yield of paddy variety MTU 7029 for the area is around 60- 65 q/ha.
The results drawn from the above observations is as given in the table below
| Technology Options | Output Capacity of the Technology, (q/hr) | Threshing Cost, (Rs/q) |
| --- | --- | --- |
| Beating paddy stalk against wooden plank | 0.34 | 111 |
| Hand operated paddy thresher cum winnowing fan'. | 0.15 | 240 |
| Pedal operated paddy thresher. | 0.41 | 94 |
| Innovated Thresher | 2.0 | 40 |
It is evident from the above table that the innovated thresher once assembled at a cost of Rs. 8000/= achieves the desired objective of maximum output of 2 q/ha at minimum cost of operation of Rs.40/q compared to other options. This virtually reflected also in time saved. Krishna Mohan is satisfied with the machine and intends to further increase the working capacity of the machine by increasing the working width of the thresher. A number of farmers adopted this technology thereafter. One of the farmers Sri Gangadeen of village Baburi block Jasra followed Krishna Mohan and developed a similar machine as seen in photographs below who used hollow wooden blocks instead of bearings.

The above is one of the many technologies innovated by a farmer under guidance from Krishi Vigyan Kendra, Allahabad.
For any further queries Er. GPM Singh, SMS Ag Engg. KVK, Allahabad may be contacted.